Post Recently UPDATED on by Howard Grant Platt 111
Courage Is The Backbone of Your Personal Power And Self-Confidence.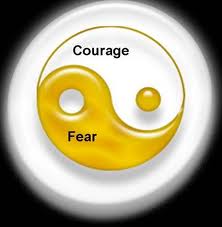 Courage is the outstanding quality of all successful leaders. It is a way of life, it is as much a habit or routine, it is not to be thought of only in terms of deeds.
It is not just merely the name you give to someone for putting up with a bad situation. In such a case most people are merely coping with a situation they can do nothing about.
Showing you have the means, the ability and the willingness to confront your fears that is what courage is all about.
Courageous people are not those that are not afraid it is those people who confront their fears and take action to overcome them.
As a wise man once said to overcome courage and fear you must:
"Do The Thing You Fear And The Death Of Fear Is Certain."
To Overcome Courage You Must Overcome You Fears!
Courage and fear become a habit. If you continually refuse to face your fears and you find yourself always backing away then every time you are faced with a fear you will habitually back away.
The sad part is that will strip yourself of many opportunities in life if you continually refuse to face your fears.
I have been addressing the 10 keys to personal power and as I said each one builds off the other however courage truly is the foundation of the ten dominant characteristics.
You must know without doubt or hesitation that you will have the strength of character to step forward and take action in the face of any personal fears you have developed.
You must believe in yourself and know that if you turn the tables and courageously face your fears you will inevitably prevail.
Courage Is The Strength To Push Forward When Faced With Adversity
The real test of our willingness to accept this characteristic is revealed in the choices we make on a daily basis. A person of courage is one who speaks the truth all the time, because lies are the mark of a coward.
Courage is the willingness to speak our mind no matter what others may think, if we are upholding a belief that is strong to us.
In expressing our own personal powers it is important that we have a voice that is heard and this will not happen if you do not speak your mind at times when you truly believe in yourself.
All your fears can disappear, fears of loss, fears of rejection, fears of failure, fears or pain, fears of the loss of a relationship, fears of limitations and fears of ill-health, they will all seem to just diminish if only you confront them.
When you try to hide from them and refuse to face them, that is when they become their strongest.
Having the courage to confront your fears and deal with them as a person of strong will and character will actually diminish, deplete or eradicate those fears altogether.
You And You Alone Hold The Power And The Courage To Create Your Ultimate Destiny!
The Courage For Creating Your Ultimate Destiny

Having the courage to claim your right to creating your ultimate destiny is the powerful force that will guide you to design and live a truly extraordinary life.
Happiness, lasting success, confidence, strength, wealth, determination, health, fantastic personal relationships, optimism, boundless enthusiasm, unlimited energy and courage; these will all be yours on a daily basis when you choose to create them.
Having The Courage To Persevere In The Face of All Odds!
You must dare to go forward in life, always face your full potential. The simple truth is if you are always moving forward no matter how small an amount you cannot be going backwards.
A man of courage is always on the edge of their potential. They are not just sitting back taking things very easy they are constantly challenging themselves.
It is this type of behavior that leads to the true building of personal power which is followed by many personal achievements and a great deal of success.
The Great Expression Of Courage Is To Persist In The Face Of Adversity.
Develop the belief that you are unstoppable, nothing can keep you down.
I have faced many personal challenges throughout my life and I did so with courage and personal power and that is why I am here today to share my story.
I have studied these 10 keys to personal power for years and I have worked hard to put each and everyone into action when needed.
I was hit with some serious and lasting medical challenges fairly early in life but I have handled them with courage and resiliency and that is what I try to teach through my writing.
To achieve the success you desire in life you must have the courage to face your fears and chase your dreams.