Enthusiasm Ignite The Greatness Within You! Enthusiasm Is The Driving Force Behind All Success, Jump On The Enthusiastic Bandwagon Today!
Enthusiasm is such a powerful tool when it comes to improving your personal development.
I am going to define it according to the dictionary and then I will tell you how I define it in my own life.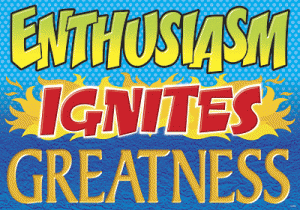 According to the dictionary, it means-great excitement for or interest in a subject or cause. A source or cause of great excitement or interest. Then there are a few mythical definitions.
What enthusiasm is to me and how I use it in my life cannot be defined in a book.
It is an overwhelming feeling of joy, pleasure, and success. Living with passion and enthusiasm is an attainable dream.
I will go out of my way to become enthusiastic about something in my life because when I do the positive energy I give off enriches the lives of all those around me.
Living a life full of enthusiasm strengthens you as a person which helps you to excel at all the goals you have set for yourself.
An Enthusiastic Person Reaches Greater Heights of Success as a Result of Their Infectious Positive Attitude!
When you are faced with problems in your life you should focus on positive solutions rather than the negatives of the moment.
If you allow enthusiasm to drive your life you will face uncertainty with strength and character versus fear and despair.
Enthusiasm – Is It The Choice You Make?
You have to get up every morning and make that decision that you are going to have a terrific day. We all hold the power to establish ourselves as determined, positive, successful people.
I have faced many difficult challenges in my life and there were times that I felt like giving up. I fought hard to remain enthusiastic about my future and my own inner strengths.
Remember our thoughts cause our actions and if you decide that you are going to face your troubles with an optimistic, enthusiastic attitude you will come out on the winning side of every challenge you face.
I learned a long time ago that when you allow yourself to worry about things that have not even happened you are doing nothing but "borrowing trouble." This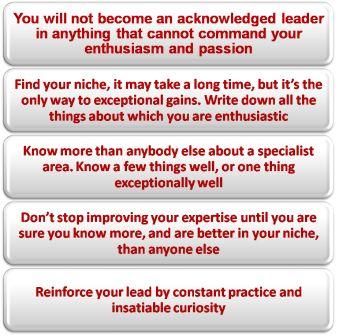 does nothing but steal time, something you never get back so don't waste the precious time we have been given take control of your thoughts and chose to make the best of every moment you have.
Try to explore the exciting parts of life, keep a record of these moments in a journal and refer to them whenever you are having a rough day.
When I seem overwhelmed by the pressures of life and I feel myself focusing on the negatives, I refocus my thoughts onto a joyful moment.
I am not saying that it's easy, but you can prepare yourself for these moments and have your arsenal of positive memories to draw upon.
Remember your mind can only hold one thought at a time so why not make it a good one.
In my life my wife is everything, so if I focus on her this makes it easy for my enthusiasm to drive positive thoughts into my consciousness.
When you learn to focus your mind on the positives in life you will become a more enthusiastic person.
When I focus on the positives in life my whole attitude changes. I become optimistic and cheerful, I am more driven towards my goals in life.
When you display a positive mental outlook in life this radiates to those around you and soon you are surrounded by positive, enthusiastic people.
Something really powerful in personal development is actually sharing the things that work for you with others.
When you know you have helped someone else you feel good inside and you can use this experience to overcome problems in the future.
Always write down events or situations that took place that actually brought you out of a worrisome situation, if you do this you will build a list of personal successes that you can always look back on and the power of using this list is immeasurable.
When you find something that produces that kind of excitement, it makes you feel empowered almost like you are able to do just about anything you can imagine.
This is your personal high and you created it all, this is enthusiasm!
In fact, enthusiastic behavior can make you do exceedingly well at whatever it is you may be involved in at that moment.
If you can trigger your excitement with projects at work you will most undoubtedly perform much better at that job.
My ability to build my enthusiasm in so many different areas of my life has brought me much success!
Does Your Enthusiasm Drive You To Greatness?
While enthusiasm begins in the mind, it can have a profound effect on the body as well.
The pitch of your voice, your heart rate, even your posture, not to mention your energy level changes when you are filled with this feeling.
Enthusiastic people are often more successful at what they do, mostly because they become so adept.
They also find it a bit easier surviving the hard times. It's hard to break a person who is fortified with enthusiasm.
Keep in mind that it is not just excitement it has much more feeling and action involved.
Imagine a life based on forgiveness of self and others … a life based on shedding fear and accepting love … resulting in a life of true inner peace.
That's precisely what thousands of people are attaining through the study of this program.
When you are working on personal development you must have a variety of resources you can turn to when a crisis arises.
It is really up to you to expand your horizons and to gather as much information as you possibly can so you are ready to face any difficult situation.
Learning to turn on the enthusiasm is a wonderful way of pulling yourself out of a rut.
I purchase motivational programs on the average of one per week because I just love learning all I can about personal development.
Learning to harness your enthusiasm will work miracles on your personal development.
I love to listen to audio programs as often as possible, I always have them in my vehicle and I go to sleep listening to them at night.
In sharing my journals with you it has really helped me, even though I am constantly learning new tricks it has been terrific to go back through my journals and spend a day just focusing on one major area of personal development.
My goal in writing this website is to share these personal development tips in a simple to understand way so you can use them in your life.
I guess you could say I am very enthusiastic when it comes to sharing what I have learned over these many years of study.
I want you to know the sponsors that have helped me the most, there is so much you could try out there and it's so hard to know where to start.
But I hope you can get ENTHUSIASTIC about the information I share with you and how I have used it in my life to overcome the stresses I faced and the ones I am still facing.
Just remember don't ever lose your enthusiasm for life because there is just too much good out there for you to miss out on.