Gratitude With An Attitude  learn the benefits of having a Grateful Attitude!
Showing gratitude for the good that others do or for positive events that directly affect your life, displays the dignity that you possess.
The sincere display of gratitude can resonate far beyond its true starting point.
When we show appreciation for the special things people do for us in our life we leave that person with the desire to do more.
It is a simple display of one good act spreading to another and another and so on.
The very act of showing gratitude in life, regardless of the situation, demonstrates true strength of character!
There is so much that we all have to be grateful for in this life that truly expressing it in one way or another should be an easy thing for us all to do.
Gratitude Back With A Positive Attitude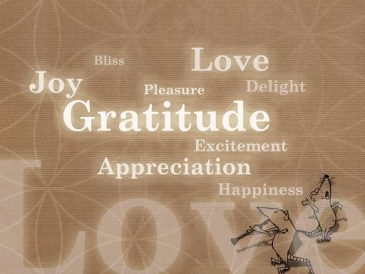 If you read my story you might wonder how I could actually be grateful for anything in my life, but I can tell you that is not how it works.
Bad things happen to everyone at one point or another but when you look around at all the beauty in the world you will see that things are more than evened out.
Gratitude is an Attitude and if you harbor negative feelings or self-pity you lose out on the pleasures that come with an attitude of gratitude.
If you are facing a situation that cannot be changed you will find more comfort from accepting it then you will from resenting it.
Accept the good and the bad and be thankful for the opportunity.
So How Can You Show Gratitude?
By Just saying "Thank You!" Those two words speak volumes in today's world.
Showing appreciation is truly contagious and the reason for that is that it actually makes the person saying "thank you" and the person being thanked feel special inside.
It is so simple to say yet it carries a lot of meaning and feelings behind it.
Being thankful for your health should never be overlooked.
There are so many people in this world that don't truly know how lucky they really are to have good health.
I would do anything if I could have my health back the way it was before all my problems started.
Yet even with my health problems I easily find more and more to be grateful for each and everyday.
Showing appreciation for your family is one thing that a lot of us fail to do.
Show Your Gratitude Without Hesitation As You Never Know When You Might Lose The Chance!
More times than not we will lose someone close to us before we ever get the chance to tell them what they really meant to us in our lives.
I think this is one of the biggest shames we could have.
I never go a week without talking to everyone in my family at least once and if I can visit with them I am in my glory.
Sharing time with our families should be our greatest passion.
When my doctors told me to "get my affairs in order" and I had to write goodbye letters to everyone I cared about, the pain I felt was unbearable.
Not because I was dying but because I knew I would never see my loved ones again.
I won't bring my religious beliefs into this message.
I will just say that I have so much gratitude in my heart for being given a second chance to live and to make better choices in how I spend my time while I have it.
Showing Gratitude And Things To Be Grateful For:
We should be grateful for those who came before us.
They sacrificed a so much to help bring this country to where it is right now.
Personally I am truly grateful for the medical advances they have made. Without them I would not be here writing this site on personal development.
I am truly grateful I kept journals of everything I went through and took notes from all the programs I used so I can share them with you through this site.
Sometimes its nice to be thankful for the ability to give back to others in some way.
It boils down to the fact that you should focus on what you have and not what you don't have.
Showing Gratitude Is Not Only For The Person Or Situation That You Are Grateful For It Is Also A Display of Your Good Character
When you focus on what you have been blessed with it keeps you in a positive place.
Showing true gratitude for everything brings out the beautiful, positive characteristics in people.
Modeling your attitude of gratitude is a great way to spread it to others.
When you display kindness and thoughtfulness you will attract to you the same type of people and that has the power to enrich your life greatly.
We have all heard the Golden Rule: "treat others as you wish to be treated."
Showing your appreciation to others shows them that you like to be treated this way as well. An attitude of gratitude can be quite infectious!