Post Recently UPDATED on by
Enthusiasm or Enthusiastic It's Tough To Have One Without The Other! Enthusiasm is what ignites your drive and ambition to succeed at any endeavor.
One can never be too enthusiastic providing your goals are in alignment with your integrity.
The saddest days of our lives are those that we can find nothing to be enthusiastic about. A persons enthusiasm is in direct proportion to the importance of what it is he is looking forward to.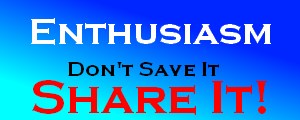 There are all sorts of degrees of enthusiasm.
We tend to be more enthusiastic on Friday simply because it is the last day of the week and we have a free weekend coming up.
We tend to be more enthusiastic about going home from work at night then we are before leaving in the morning.
The most fortunate people on Earth live most of their life in a state of energizing enthusiasm.
There are two keys to enthusiasm, one comes from learning and the other comes from accomplishments.
Learning new things tends to keep our enthusiasm high, perhaps this explains the natural enthusiasm of children.
Enthusiasm We Once All Had To Be Incredibly Enthusiastic
If you paid attention to children you would notice they are naturally enthusiastic and they are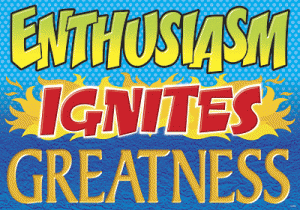 naturally happy.
The reason adults tend to lose a lot of their enthusiasm for living is that they usually stop learning.
As soon as school is over they take the stand either consciously or unconsciously that they know enough.
Any learning they do from that point on they do passively, through the natural passage of time and experience, or again passively through the media news, television, newspaper or radio.
If new learning comes to them it does so largely through no effort at or minimal efforts on their part.
Learning little that's new or interesting makes their lives become repetitious, they see the same people, do the same things, then gradually all the enthusiasm runs from their lives.
The Second Key Ties Into The First. The Second Key Being Accomplishment.
Its pretty hard to accomplish something new without first learning something new. We are enthusiastic when we are working on a new project we want to be working on.
The keyword there being want, it has to be something we want to as opposed to those duties we must do whether we like them or not.
Did you ever get a good look at a dogs face when he is chasing a rabbit?
It's the happiest most alert expression you will ever see in your life, he's got something wonderfully worthwhile to do and he's having the time of his life trying to do it.
You would hardly know its the same dog you saw snoozing and twitching on the back porch, before the rabbit came into the picture he could hardly keep his eyes open.
It's the same with people, the rabbit may be different but its our job to flush it out.
The Word Enthusiasm Comes From The Greek Work "Enthios" Which Means "The God Within."
The happiest most interesting people are those that found the secret to maintaining their enthusiasm for life and all it has to offer.
Encourage Your Children's Enthusiasm To Be Enthusiastic
Encourage your children to express their enthusiasm and delight. Let them believe the world is full of wonderful things and they themselves full of splendid possibilities.
When We Put A Damper On A Child's Enthusiasm We Are Repressing One Of His Most Valuable Emotions.
They can learn self-repression in later years but enthusiasm once lost can be lost forever.
We Should Never Lose Our Zest For Living Our Excitement And Enthusiasm Our Curiosity And Our Desire To Know.
The person who does is certainly blind to the world. its miracles, and possibilities or his or her own possibilities.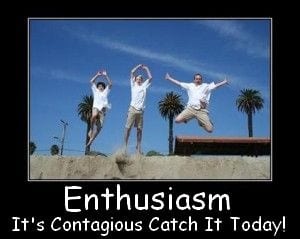 The world is as exciting today as it was when we were children, the trouble lies in the fact that we tend to lose our children's eyes and because of it our enthusiasm for life.
Constant learning keeps our enthusiasm high, and directly related to learning is accomplishment.
All the days of our lives the absorption of new information stimulates us to take action to accomplishment.
The tremendous feeling that accomplishment brings allows us to zero in on our own desires, our goals, and new ways to serve others.
Start today, ignite the enthusiasm to become enthusiastic for life.